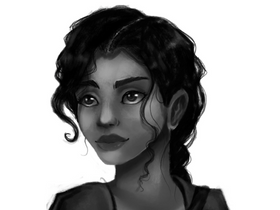 There she is! Cierra, Keeper of the Key, protagonist of The Search for the King's Staff. Isn't she pretty? Growing up on the Island of Nimbra, Cierra was raised by her beloved Aunt and Uncle along with her cousin James. Gifted with a magical key by Shomina, the Spirit of the moon Azul, she was chosen to find the King's Staff, an ancient artifact that can stop the darkness, that is devouring the spirit realm, from invading the world she loves.
Growing up, she was trained by the wise Seer of the Torrancean Emperor how to wield the blade and to speak Masiann, a language of old that has been kept alive through the many magic users around the world. If I do say so myself, Cierra is a bit of a bad ass (mind the language). Rough around the edges, she has a caring heart, tends to be a loner thanks to some trust issues, and is a bit of a hot head. Reckless could be her middle name, but her greatest strength is her ability to hope, which pulls her through her many failings and wounds. I thought I'd share her with you right here in the blog, but you can also check her portrait out in the "Art" tab above, along with portraits of the rest of the cast: James, Anara, and Leo.
You can read about Cierra's journey starting with book one, A Song of Hope, and follow that up with book 2, the Scarlet Phantom.